A showcase of native Australian botanicals at their finest, our Native Australian Amaro is a complex aperitif that evokes the smell of the bush after the rain. Deep-rich copper in colour, the flavour is characterised by a forward sweetness followed by a deep, earthy bitterness with bursts of citrus and native botanicals including cinnamon myrtle, lemon myrtle, Tasmanian Pepperberry and lemon scented gum.
We recommend drinking neat with a twist of orange, in an Amaro Old Fashioned or a Paper Plane.

As our products are seasonal, there may be slight variations in colour, aroma and flavour from batch to batch. Some natural sediment may also be present.
30% ABV
"Smelling like a herb garden, this copper coloured amaro presents with aromas of thyme, lemon oregano, hints of crushed eucalyptus leaves and delicate bitter peel. It's silky and semi-sweet ending in a complex, bittersweet burst of mint, mixed herbs and citrus. Try it neat with a twist of orange. 93 points" - Nicks Wine Merchants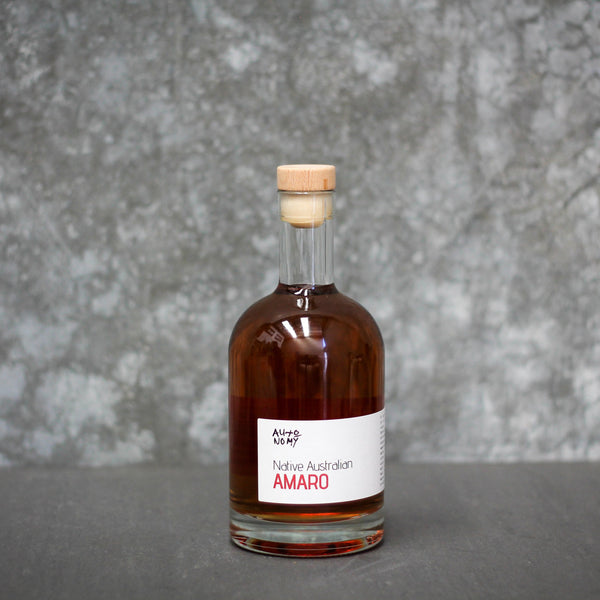 Tasty
First came across this with Mike Bennie's review, and it didn't disappoint. A great Australian take on the Italian classic. Delicious!
Absolutely delicious!
Super unique and great for making cocktails- we've tried the Manhattan and Paper Plane. Highly recommend!
Autonomy amaro
This is the absolutely best bitters to make a negroni, Australian style
Amazing
My wife and I traveled to Rome and found a taste for Amaro. It has been seven years searching trying to find something similar. Either taste or smell was a disappointment nothing came close. Until a chance restaurant visit in Ballarat and we found it and it is native Australian. Expect many more orders from us, your Amaro is amazing.